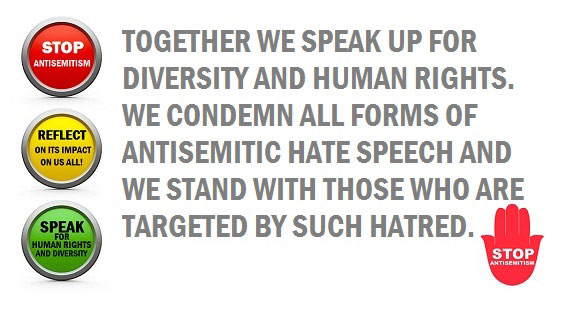 Anti-Semitism, like all examples of irrational hostility, should be a historical artifact, a cautionary tale against ignorance from a less enlightened time.
Unfortunately, that is far from the case.
Not only does anti-Semitism still exist – in many places it's actually thriving.
Just this past August, white supremacists marched through Charlottesville, Virginia, shouting "Jews will not replace us," wearing swastikas and carrying banners with messages of hate, such as "Jews are Satan's children."
We find people like the marchers in Charlottesville repugnant and their vile anti-Semitism abhorrent.
And we're going to do something about it.
At Unpolitically Correct, we carry our own banner: "No Hate, No Violence." It's a movement and a philosophy that informs the work we do each day and reflects our values and beliefs.
And so we're proud to support the No Hate Speech Movement's Action Days countering anti-Semitic hate speech. We'll act in solidarity on Nov. 9-10 with this campaign to speak plainly and powerfully in defense of human rights and cultural diversity.
We hope you will, too.
Learn more here.
Together, we really can change the world.