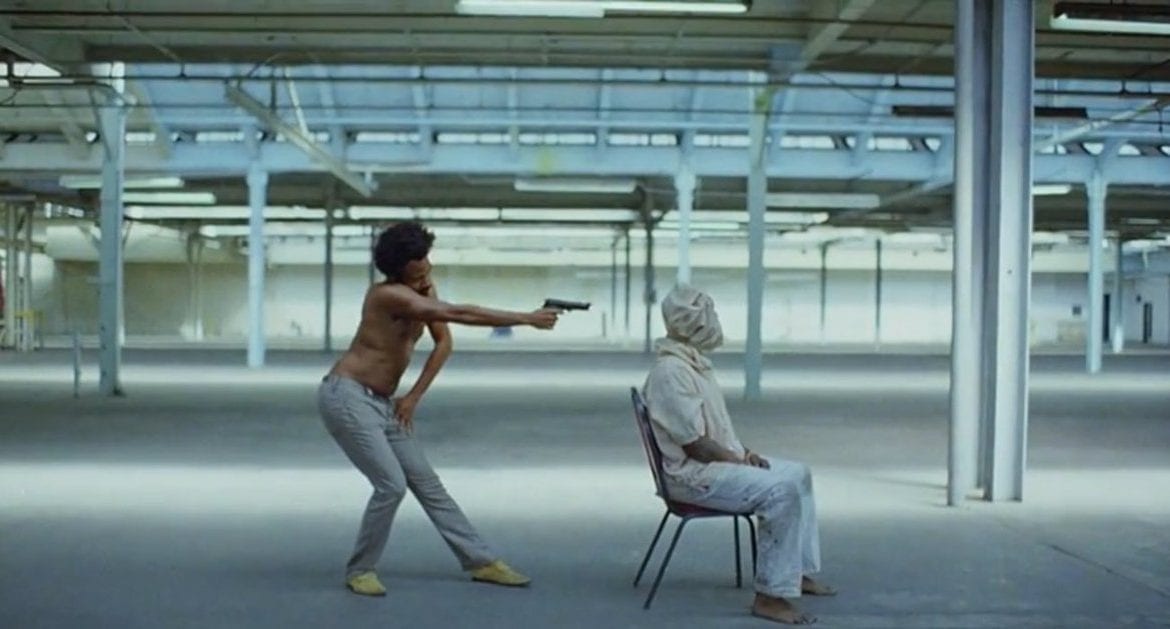 ---
When there's something wrong, politicians talk.
When there's something wrong, artists do.
---
When cultural experiences become pop culture, consider them officially 100% a part of reality (if you didn't already). While the efforts of CNN, Fox News, MSNBC, and all the rest jockey to best report on the state of our nation, there's something truly powerful – and perhaps more powerful, longer lasting, and more effective – when that same state is showcased in another form: art.
In his most recent music video titled "This Is America," Childish Gambino (the musician moniker used by the Atlanta television show Creator/Producer/Actor Donald Glover) boldly shouts from the rooftops just how dire things are. Not "are becoming" – are. While the song possesses musicianship of the highest caliber, its purest potency declares itself in partnership with director Hiro Murai's cleverly crafted video.
There are myriad breakdowns of each moment in the video, so we won't repeat what's already been said. Instead, what we find inspiring to discuss is how Donald Glover (and artists like him) use art as a means (and hope) to solve a problem. From it's core "This Is America" sings the unfortunate tragedy of the persistence of inequality in a country supposedly founded on equality, and society's ever-growing numbness to fatal events (that are quickly moved on from, in the news and entertainment cycles).
Seeing cell-phone videos of police brutality, violence, racism, and other injustices has become so ubiquitous that we all end up usually reacting the same way: "ugh, that's awful…" *hit like, continue to scroll* But there's something about a polished piece of entertainment that can make us viscerally react as millions already have: "…whoa." Then, we go tell our friends about it. "Have you seen 'This Is America???'" Talk about an achievement: crafting an intelligent perspective on society that goes viral. That being said, you could add "Educator" to Glover's growing list of titles.
If hip-hop's not your thing, that's okay. Understanding "This Is America" doesn't require an in-depth prerequisite of hip-hop Grammy winners, or rap history (if this is you, you're probably white… #racist?). Hell – I don't typically listen to hip-hop, but this video got a "…whoa" out of me.
"This Is America's" bones are effectively simple, and here's how. A happy music and film motif is repeatedly destroyed with a firearm (humans are shot and killed on-screen). Glover then immediately states to us (calmly and clearly), "This Is America." A frightening and chaotic motif takes over. Then, the happy motif restarts as if nothing happened – an all-too familiar experience in the news cycle (tragedy takes a bite out of innocence – e.g. school shooting, and two days later, it's like it never even happened #thoughtsandprayers). If you're a human and can speak English, that is all you need to understand what Glover is trying to tell us. Film is most effective when it shows the audience, not just tells them. This music video does both.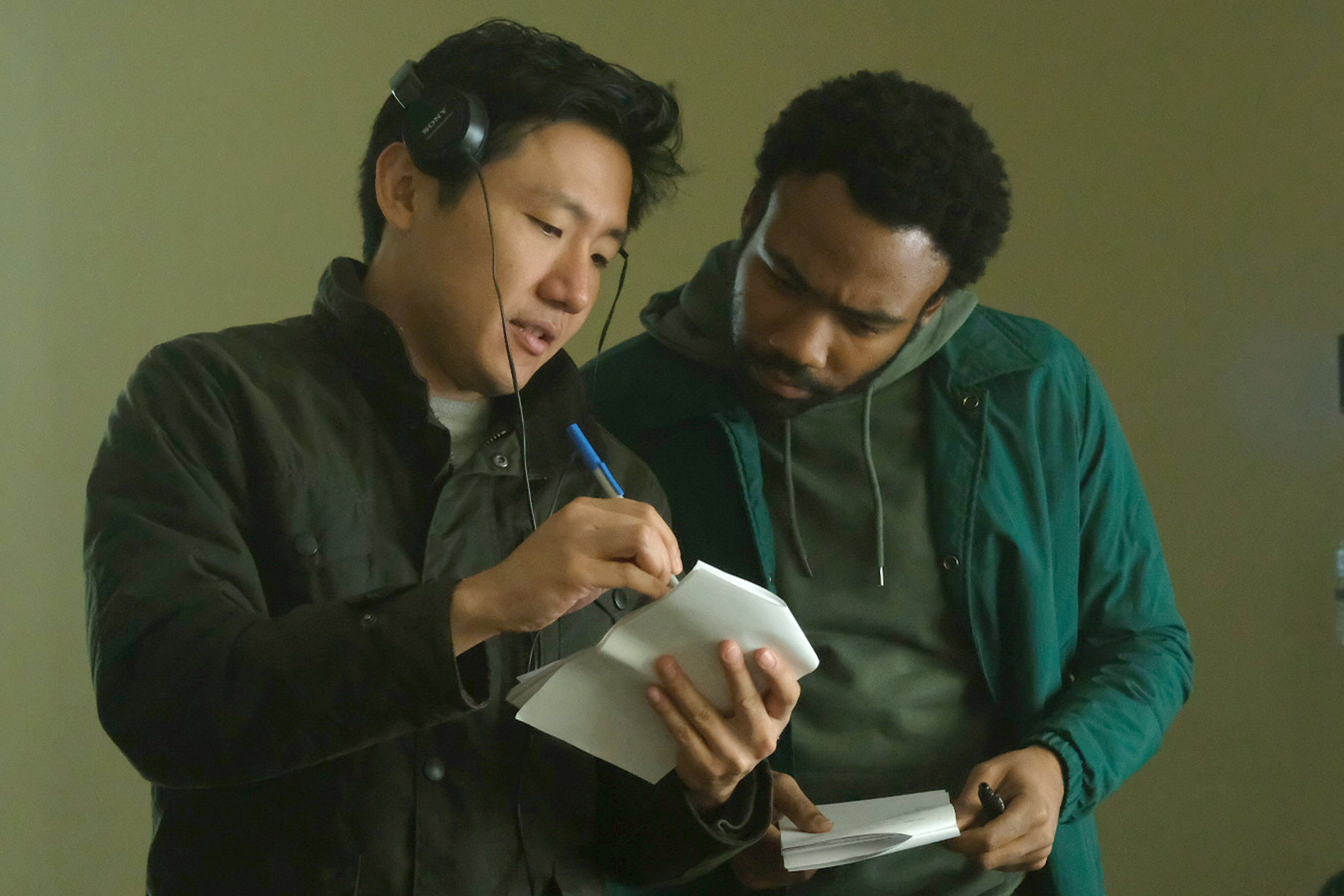 It's from this very simplicity – the use of two polarized motifs – that Glover and Murai have accomplished an amazing feat: holding up a mirror to American society as a whole. "This is America…" it says, "and it is an absolute tragedy. Stupid, even. We are fools."
It also reflects the faults of both black and white society, including the ironic ways in which historical and structural racism has created much of the tragedy itself. One moment, Glover puts on a smiling "party" for us in a clean, brightly lit (read "white") warehouse. The next, he mocks much of what hip-hop has long been synonymous with: guns, drugs, bling, bricks of cash, misogyny and all the other stereotypes you're now probably thinking of on your own. The irony is obvious, wonderful to watch, but also painful because let's face it: Glover is right.
Glover and Murai's work is a refreshing reminder that not all solutions come in the form of a government bill, political campaign, think-tank strategy, or organized rally. Politicians and marketers all vie to find their way in to our decision-making processes, trying hard to connect with us and get us to care about their fixes, causes, wants, and desires. And as they try, they smile. But there's always an angle… always some sort of "but" or compromise that comes with their "solution."
With art, there is no compromise. It's a win-win. There's no downside. When an artist shares from the heart, his/her message is pure – it is truth. You can certainly disagree with it, but it is truth nonetheless. And when articulated well, it can reverberate around the globe into the minds and souls of other humans. It can summon the motivation to rise above the fear and pain to mend the wounds caused by hate. Because you never know – the next great leader could go on to tell us that she realized she wanted to change the world the moment she watched this one music video and said, "…whoa."
LYRICS
Yeah, yeah, yeah, yeah, yeah
Yeah, yeah, yeah, go, go away
Yeah, yeah, yeah, yeah, yeah
Yeah, yeah, yeah, go, go away
Yeah, yeah, yeah, yeah, yeah
Yeah, yeah, yeah, go, go away
Yeah, yeah, yeah, yeah, yeah
Yeah, yeah, yeah, go, go awayWe just wanna party
Party just for you
We just want the money
Money just for you
I know you wanna party
Party just for me
Girl, you got me dancin' (yeah, girl, you got me dancin')
Dance and shake the frame
We just wanna party (yeah)
Party just for you (yeah)
We just want the money (yeah)
Money just for you (you)
I know you wanna party (yeah)
Party just for me (yeah)
Girl, you got me dancin' (yeah, girl, you got me dancin')
Dance and shake the frame (you)This is America
Don't catch you slippin' up
Don't catch you slippin' up
Look what I'm whippin' upThis is America (woo)
Don't catch you slippin' up
Don't catch you slippin' up
Look what I'm whippin' up
This is America (skrrt, skrrt, woo)
Don't catch you slippin' up (ayy)
Look at how I'm livin' now
Police be trippin' now (woo)
Yeah, this is America (woo, ayy)
Guns in my area (word, my area)
I got the strap (ayy, ayy)
I gotta carry 'em
Yeah, yeah, I'ma go into this (ugh)
Yeah, yeah, this is guerilla (woo)
Yeah, yeah, I'ma go get the bag
Yeah, yeah, or I'ma get the pad
Yeah, yeah, I'm so cold like yeah (yeah)
I'm so dope like yeah (woo)
We gon' blow like yeah (straight up, uh)
Ooh-ooh-ooh-ooh-ooh, tell somebody
You go tell somebody
Grandma told me
Get your money, Black man (get your money)
Get your money, Black man (get your money)
Get your money, Black man (get your, Black man)
Get your money, Black man (get your, Black man)
Black man
This is America (woo, ayy)
Don't catch you slippin' up (woo, woo, don't catch you slippin', now)
Don't catch you slippin' up (ayy, woah)
Look what I'm whippin' up (Slime!)
This is America (yeah, yeah)
Don't catch you slippin' up (woah, ayy)
Don't catch you slippin' up (ayy, woo)
Look what I'm whippin' up (ayy)
Look how I'm geekin' out (hey)
I'm so fitted (I'm so fitted, woo)
I'm on Gucci (I'm on Gucci)
I'm so pretty (yeah, yeah)
I'm gon' get it (ayy, I'm gon' get it)
Watch me move (blaow)
This a celly (ha)
That's a tool (yeah)
On my Kodak (woo, Black)
Ooh, know that (yeah, know that, hold on)
Get it (get it, get it)
Ooh, work it (21)
Hunnid bands, hunnid bands, hunnid bands (hunnid bands)
Contraband, contraband, contraband (contraband)
I got the plug on Oaxaca (woah)
They gonna find you that blocka (blaow)
Ooh-ooh-ooh-ooh-ooh, tell somebody
America, I just checked my following list and
You go tell somebody
You mothafuckas owe me
Grandma told me
Get your money, Black man (Black man)
Get your money, Black man (Black man)
Get your money, Black man (Black man)
Get your money, Black man Black man)
Black man (one, two, three, get down)
Ooh-ooh-ooh-ooh-ooh, tell somebody
You go tell somebody
Grandma told me, "Get your money, " Black man
Get your money, Black man (Black man)
Get your money, Black man (Black man)
Get your money, Black man (Black man)
Black man
You just a Black man in this world
You just a barcode, ayy
You just a Black man in this world
Drivin' expensive foreigns, ayy
You just a big dawg, yeah
I kenneled him in the backyard
No proper life to a dog
For a big dog